March is Craft Month, and I'm celebrating with Steph from Crafting in the Rain and several other bloggers to bring you the A-Z Craft Series. This week, we're creating with the letters N through S. In case you haven't figured it out, my letter is O for origami! Or, if I were my son, I'd say "origami is for O!" Origami can be taken in a million directions, but I thought I'd start gearing up for Easter and Spring with these little origami hen treat boxes from Origami Spirit.

Four little hens, standing in a row.
One fell down and stubbed her toe.
She tried to rise but wobbled to and fro.
Three little hens, standing in a row.


Who knew I could rhyme, right? Yeah, I pretty much sprained my arm patting myself on the back, I won't deny it.



I think these little ladies are pretty adorable, and not too difficult to fold if you follow along with this video.  Wouldn't these make the cutest little table settings or favor boxes?
Take a few moments to check out the other letter crafts for this week as part of A-Z Craft Month!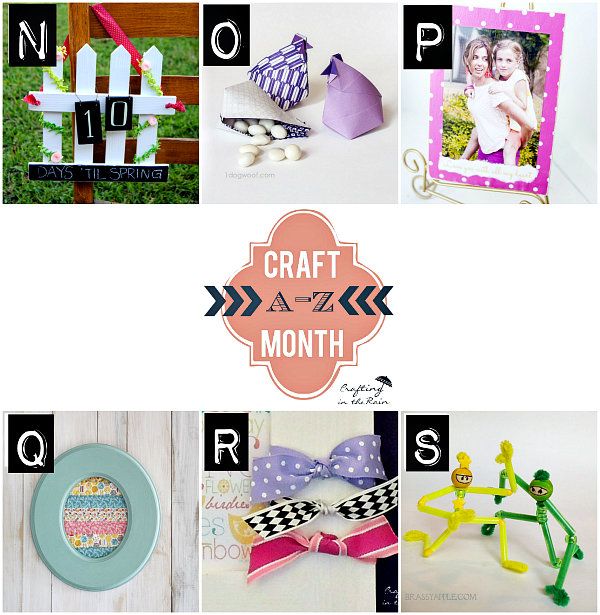 N is for Numbers sign ||  Shaken Together

O is for Origami boxes ||  One Dog Woof

P is for Photo Plaque  ||  Kristen Duke Photography

Q is for Quilted egg  ||  Honey Bear Lane

R is for Ribbon frame  ||  Crafting in the Rain

S is for Stick men  ||  Brassy Apple


Still looking for more?  I'm a sucker for fun paper crafts, especially origami, so here's a few of my favorite paper projects!


Lucky Stars Ombre Mobile
Origami Crane Mobile
Paper Dodecahedron